Have you started your own coaching business and are struggling to get your first client? You are not alone. Is it estimated that 50% of businesses make it past 5 years and only 34% make it past 10. There are many challenges that business owners face, including life coaches, and one of the hardest ones is landing your first client.
Luckily, there are many strategies out there for how to get coaching clients, and we will go over the top 10. Read on to learn more! 
Step 1 - Establish your credibility
When starting out your business, having the trust of potential clients is important. That is why you need to work on establishing your credibility first. Try to earn certifications that will demonstrate that you took the time and effort to become trained to listen to your client's obstacles. Find the most suitable institution to get accredited, and plan ahead. You should have planned out the rate that you are willing to pay, and try to modify your schedule to fit your training.
Further Reading: I want to become a certified life coach
You can also brainstorm what makes you stand out among the other coaches:
Any degrees that you have obtained previously? 
Volunteer work that you have done that relates to life coaching? 
Soft Skills that you possess that would be great for your profession?
Note them all down, and make sure that you promote your strengths on various channels of communication including:
Social Media
Website and 
Portfolio sites
Other Channels
Step 2 - Establish Your Niche
Once you have obtained certification, it's time to think about what niche you would want to serve. It is important to do so because it is likely that you will have a lot more expertise in one area than others, so you want to focus on your strengths. First, think about what motivates you to continue on with your day:
Is it improving your physical health? 
Becoming financially stable? 
Your mental wellbeing? 
Make a note of this, and narrow down what you are most passionate about.
Further Reading: How to Find Your Coaching Niche
After you have an idea of your niche, make sure that your client base wants to solve problems that fit in your niche. There are many tools to figure out your clients problems if you are struggling to do so, and an excellent tool is the wheel of life coaching. It is a graph that coaches can use to pinpoint what their client's strengths and weaknesses are. You can also conduct customer discovery interviews and insert specific questions to try and get to the client's core issues. 
Further Reading: The Wheel of Life Coaching
Step 3 - Create a Website
One of the most important things a business owner can do is to create a website. It should be at the top of your priority list, as it is one of the main objects that identifies what your business is, whether it's credible or not, and is great for establishing your brand. You should aim to include many of your strengths as well, including testimonials, appearances on media, accreditation and a bio that highlights your accomplishments such as degrees earned and volunteer work, among other accomplishments. 
Your website should also be easy to navigate as well and free from technical errors. Unluckily, many business owners including life coaches find it difficult to create one from scratch. Luckily you can use our program coach.today, as it offers an easy to use interface, and has great features built in that should be essential for any website, including automatic payments, email sign up process and scheduler among other great tools. We also offer high amounts of customizability so that you can design your website the way you want to portray your brand.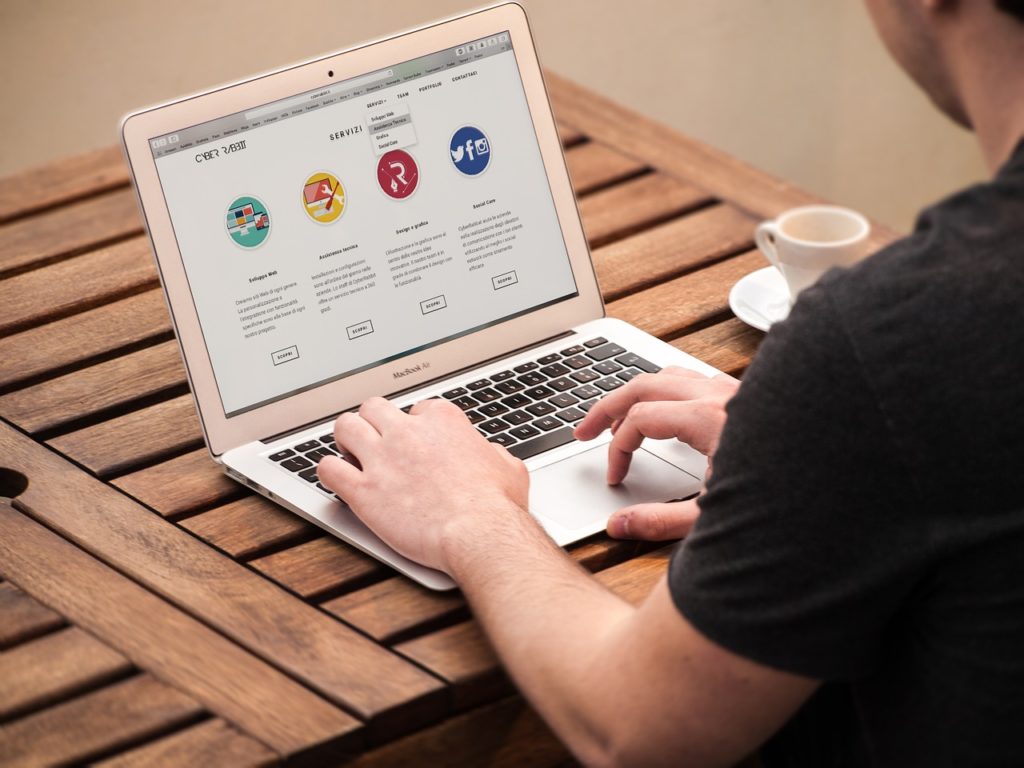 Having a website is crucial for how to get coaching clients. It is the central hub for your business and can showcase your strengths
Step 4 - Drive them to your email list and marketing funnel
When you create a website, there should be a field where visitors can fill in with information you want. Try to be as minimalist as possible and only ask for their name and email address, since they might be skeptical about your services. When they enroll, make sure you redirect them to a download page where they can download a lead magnet. This can be in the form of a PDF Document, access to parts of your website, or a checklist that they can use. 
After the user signs up to your funnel, you should send them a thank you email. You should aim to get them to visit your site and landing page again. This can be in the form of sharing any great news about your company, or offering any discounts or promotions that they can take advantage of, such as free office hours. Your website should also include a section where your clients can have a seamless booking experience that should be as automatic as possible, so that when you redirect them there from the email message, they have a greater chance of booking a meeting.
Further Reading: How to design a marketing sales funnel to enroll coaching clients 
Step 5 - Create Social Media Accounts
In the digital age, social media marketing is important now more than ever. Having social media accounts is important to establish your brand and engage your audience. You should preferably create an account based on what platform your demographic uses. If your audience trends towards the older side, you should primarily use Facebook and LinkedIn. If your audience trends towards the younger side, then Instagram should be your go to platform. 
When creating a social media account, make sure you have your goals set in place. Use the S.M.A.R.T goal strategy to come up with objectives:
Specific
Measurable
Attainable
Relevant
Time-Bound
You should also think about the following: 
Do my social media goals align with my business objectives?
 Do I want people to schedule a call with me more or do I want more visitors to my site?
What do I measure to make sure my campaign is successful?
What is my target number of followers that I want to reach? 
When using social media, you should also make the effort to engage your audience as much as possible. Try to answer any queries that they have and respond positively when someone shares good news! You should also create interactive posts such as polls and quizzes to try and engage them. 
Another thing you can do to increase your reach is to start blogging. Doing so can index your website on popular search engines, and increase your visibility by a lot, and it is estimated that 53 percent of all website traffic is generated through search engines, without paid ads! When starting, try to write about what people are struggling with specifically. There are some extra steps in figuring this out, like checking how much traffic a certain search term gets, and checking whether or not the results that pop up are relevant to what you are intending to write about, or the commercial intent. For example, if you want to write about red shoes, you would have a hard time ranking for the search term "red shoes' ', and most of the posts that appear on the first page relate to the movie or tv show. 
Make sure you do your research first before starting. Try to see what pops up in the top 10 results of your search query, and try to see what others are writing about. Then make an outline, and see what you can talk about that nobody else is. When you are done writing and publishing, try to promote your blogs on social media and on your webpage. Include a section on the homepage that promotes the new article that you have written. When promoting on social media, try to highlight the benefits of the article, and how it will help your clients become a better version of themselves. 
Step 7 - Promote your Business
Once you have created your social media accounts and your website, you should take full advantage of them. Have any milestones that you have reached? Congratulate your clients on social media, and celebrate! Appeared in a publication recently? Share it as well, and include it on your website. Not only will it incite emotion, sharing any big accomplishments will also add to your credibility.
When meeting with your clients, make sure to also ask if there are any other people that they know who can use your services. Doing this can be intimidating, which is why we linked to an amazing assortment of templates by HubSpot that you can use to help you out!
Step 8 - Speak in Public to get more clients
Look for plenty of events to get your foot in the door and attract new clients. Once you have figured out your niche, search for events related to them. Make sure that the audience that will attend them also fits your ideal demographic. If you know who is going to be attending ahead of time, try to contact them beforehand to engage them. Also make sure to sell yourself first rather than the product, and to plan out your speaking engagement ahead of time. Here are some websites you can use to help you get started:
– EventBee
Step 9 - Coach people you for for free (at first)
Getting that first paid client takes a lot of effort, so why not coach for free? Wait, before you brush off this advice, think about your long term plan. The reason why you want to coach free initially is to establish a relationship. Would a random person buy your services if they don't know anything about you, including your work history? Would that same person be likely to obtain your services once they have worked with you before and are comfortable being around you? 
Of course, you would not want to do this forever, as it might drain your energy in the long term. After a certain number of sessions, you can then start charging a price and raise your rates down the road. If your customer cannot afford it from the get go, that is totally fine. You can offer a tier that involves less work on your part. You can also check up on them every once in a while to keep that relationship strong, and have a greater chance of them returning once their financial situation improves. 
Further Reading: How to price coaching packages
Step 10 - Strengthen Relationships
One of the most important things that you can do as a life coach is to strengthen your relationships with clients. Not only will you have a greater chance of working with that client again, but it is also important to establish your credibility. One of the most important things for any business owner is for customers to become so loyal that they start advocating services for you. One of the best ways to get started is to be yourself whenever you are posting on social media, writing a blog, coaching clients or any other work that you are doing. That is why it's important to make a great first impression. 
When you meet with your client, try to respond to their concerns as best as you can, and meet them where they are. Screen them for areas they need help with, and if you feel that their concern doesn't fit your niche, recommend them to coaches you know that can help them with the problem they are dealing with. Whenever they accomplish any big milestone, be there for them cheering them on. Try to also be specific in your praise for their accomplishments and detail what they did right and what they need to improve on. When in a conversation, try to let your client do all the talking with minimal interruption, and ask follow questions to find out more about their situation. Doing all of this will not only strengthen your relationships, but it will help you solidify your image as the Rockstar of your niche. 
There are tons of ways to attract clients both offline and online. The number one thing you should aim to do, however, is to build relationships with your clients. Whether you are creating promotional pieces to highlight the strengths of your company and yourself, coaching your clients, or reaching out to prospects, you should aim to make those steps as personable as possible. We hope you enjoyed this article. If you want to catch up on other coaching topics, make sure to visit coach.today/blog.