Many want the feeling of achieving something great, but give up when challenges arise. Setting goals the right way can help you break those barriers, and make sure that you are taking the right path. Goals are the steps you need to take in your journey, and they can range from something as simple as eating a carrot a day, to something more complex like creating a dietary plan. But many people who set goals do so incorrectly, and end up biting more than they can chew on. We will go over in more detail about what goals are and the correct way to set goals, from the planning to the execution.
Before You Begin Setting Goals
First, before you set any goals, think about what success means to you. What are the aspects in life that you feel are struggling with? For example, you may be stagnating in gaining new clients for your business, or you feel that you get tired easily. Try to imagine an alternate world where you overcome those problems. Feels great doesn't it?
Now think about the sacrifices you are willing to take to get there. What is the threshold of pain that you are willing to accept? If you want to gain more clients, are you willing to conduct an interview with your audience to see what they prefer? If you want to feel more energized, are you willing to exercise at least an hour a day? Visualizing the sacrifices gets you mentally prepared to tackle any challenge that comes your way. Now that you are motivated, it's time to set your game plan.
Set up your map and compass
You decided that you want to follow through, so now it's time to prepare for the trip. Follow these steps to create your plan:
1.) Write down your initial steps 
The first step you would make is to write down the initial steps you want to take. Break down your goal into the steps that are necessary. 
2.) Break your steps into smaller steps
Now, get more detailed and break those steps down into smaller chunks. What will be your weekly goal? Your daily goal? 
3.) Use hard numbers whenever possible
Keep your steps as descriptive as possible, utilizing metrics wherever you can. Instead of saying 'lose weight for the first month', for example, use something more descriptive like 'lose 8 pounds within the first 31 days.
Still having trouble setting effective goals? The SMART goal strategy can help. One of the most effective methods of setting goals, the SMART goal strategy first appeared in 1981 in the issue of Management Review by George T. Doran. These goals set a clear objective and have measurable steps. The acronym stands for:
S – Specific 
This is where you think about what specifically you want to accomplish 
M – Measurable 
What metrics you should look out for 
A – Achievable 
Is it something that can be completed in a reasonable amount of time? 
R – Relevant
Think about whether or not the goal aligns with what you need in your life at the moment 
T – Time-Bound 
How long do you plan to take to complete each goal? 
Not all goals are created equal. You have to prioritize which ones are important, and which can be done at a later time. Create a spreadsheet and color code each goal with a color that corresponds to how urgent that goal is. When setting goals, do not make them too easy. Try to make it a little challenging. Theories, like the Goal-Setting theory proposed by Gary Latham,  have shown that having challenging goals actually increases performance.
A great way to organize data is to use a pyramid, which can mentally prepare you to reach the top. The bottom of the pyramid can represent the more urgent goals and the top can represent the goals that are less important.
Having a multitude of goals can seem pretty scary. Setting up a weekly schedule, however, can take some of that fear away. Creating a schedule can take away some of that overwhelming feeling and help you create a day-to-day roadmap that helps you reach your ultimate goal. When you create your schedule, list the assignment and the time you plan to complete the assignment.
When you create your schedule, you can also list out the habits that you plan to develop, like brushing your teeth in the morning. List out the habits by chronological order, then try to stick with that. Some examples of activities you can do include:
– Do some light exercises 
– Repeat Positive Affirmations 
– Clean your room 
– Go jogging after lunch 
– Engage with hobby in the evening
Habits do not form from one day to the other, or one week to the other. It takes time to develop, and you should plan to give it a couple months before it becomes automatic.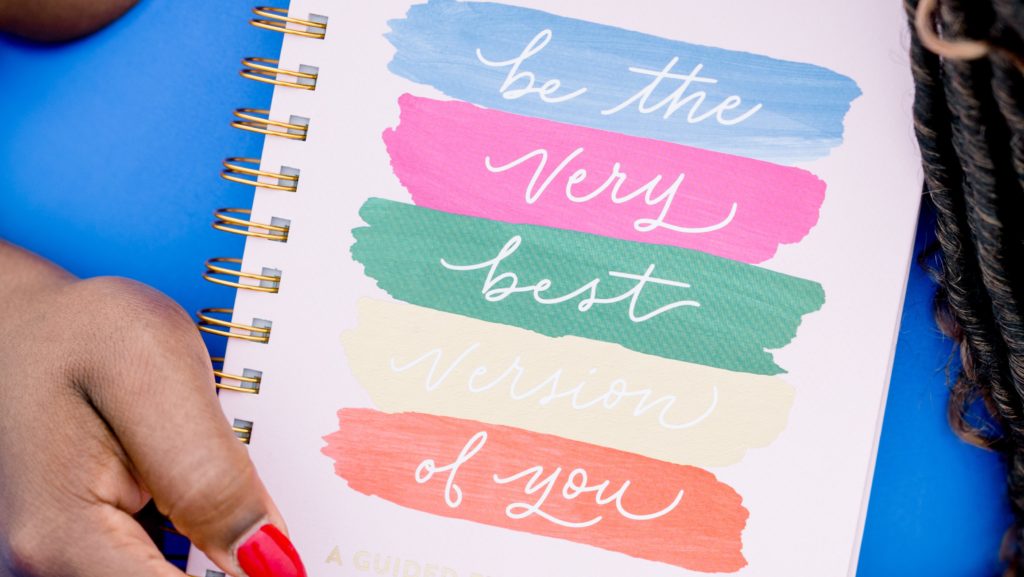 Creating good habits while setting goals can help transform your lifestyle to become the best version of yourself
When creating goals, put a quantifiable goal that can be measured. For example, if you want to lose weight, set a goal of losing at least 1 pound per week. You can then set a habit to do pushups every other day, then progress and add more days. It is also important to not overdo things and to go at a pace that is just right. That is why you should also set a limit to how much you accomplish. For example, you can try to form a habit of running 1 – 3 miles every other day. Doing so prevents you from overworking yourself.
After a while, you should increase your goals to progress further. If your original goal was to run 1-3 miles every other day, set a goal to increase your miles in two weeks to a month. Doing so prevents you from stagnating and keeps you moving forward. It transforms you into a more disciplined version of yourself.
There are most likely going to be some days where you feel you are not progressing enough and want to call it quits. If that ever happens, try to surround yourself in an environment that is fully supportive of your goals. For example, tell anyone you are living with to pressure you to jog if you feel that you do not want to do so. Replace any soda bottles with bottles of water or orange juice. Instead of having a bowl of potato chips out, replace that with carrots or apple slices. Making those small changes will motivate you to stick with your goals.
Have a document to measure any goals that you set for yourself. A great document type can be a spreadsheet. Fill out important information, and make sure to include dates and what you accomplished. You can then use that data to create a graph and visualize your progress. Make sure to check on this graph every week or other week to follow along and see what needs adjusting. When you reach a milestone, reward yourself! Go see a movie or to your favorite theme park to celebrate your accomplishment. Sticking to your goals is not easy, but having a reward for your accomplishment will make it worthwhile.
Make your Dream a Reality
Setting goals can help you achieve your ultimate goal, and knowing how to set them and measure them will help you tremendously in becoming the version of you that you dream of. It is not an easy road to take, however, and there has to be a considerable amount of effort to reach your destination. When you get there, enjoy the fruits of your labor, and have a celebration, and don't forget to invite me! (Pretty please?) If you enjoyed this article and want to learn about more life coaching topics, visit our blog at coach.today/blog.